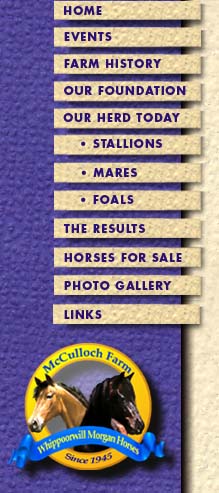 McCulloch Farm
Whippoorwill Morgans
Mary Jean &
Chris Vasiloff
100 Whippoorwill Rd.
Old Lyme, CT 06371
(860) 434-7355
Farm History
The first settlers came to the town of Old Lyme, Connecticut, in 1649.
The house which now is the farm house for McCulloch Farm was built sometime around the time of the Revolutionary War.
Living in Old Lyme was a well respected judge, George Grant McCurdy, who owned a young stallion by the imported stallion Wildair. He was called both the McCurdy colt and Young Wildair. In a letter from McCurdy to Col. Battell, who compiled and published the Morgan Horse Registers, the Judge told of a mare from East Haddam that was bred to his colt and thence went to Springfield, Massachusetts. His clear opinion was that the mare was the dam of Justin Morgan's dam, or of Justin Morgan himself. Part of the land purchased for McCulloch Farm was owned by Judge McCurdy. We like to think an ancestor of our Morgans once grazed here.
The driveway leading to the farm is part of the original "Ancient Highway" aka "Benjamin Franklin Highway", laid out by none other than Franklin himself. It passes by the main house and winds up into the woods. Along the bridle path it has become there is a stone marker engraved with the words 15 miles to New London. There is a lot of history here.
McCulloch Farm was purchased in 1927-28, by Warren S. McCulloch and his wife Rook. The land was set up for Camp Aladdin, run by Rook and a group of educators. The only buildings, when they bought the land, were the original farmhouse and a dilapidated barn. It had become a rum runner's nest, was abandoned, and finally condemned by the town.
The old house had beautiful lines and a stone foundation. It was lovingly restored, then added to. Lakes were dammed up to maintain the water level on the farm and provide a wonderful place to swim, boat, and fish.The camp was supported by charities, but the Depression wiped out the funds.
So, with 600 acres - almost entirely dense woodland, city born and raised, Rook, with four small children, decided to become a farmer. That required clearing acres for fields and building miles of fences. Of all the acreage now, only about 15 acres are still actually cleared fields used for pasture. A big barn, c.1938, housed work horses and the dairy herd. During World War II the farm operated a dairy herd and in 1940 built a stone milkhouse, which later became a residence and then a barn
The farm was a wonderful place for a girl who loved horses and other animals to grow up.
Taffy, their oldest daughter, their sons, David and George, and the youngest, Jean, all became farm hands as soon as they were able to do chores. Growing herds of beef and dairy cows, sheep and goats, pigs and chickens, ducks and geese, turkeys and cats and dogs lived on the farm.
Pumping water, feeding livestock, planting, hoeing and harvesting corn, weeding the big vegetable garden, hauling in firewood, washing milking machines, and endless haying with horses, and doing every job with only hand tools, convinced the eldest three that farming was not in their future.
The first equines were a pair of "farm chunks" - small draft horses, then an old Thoroughbred mare for Taffy, and Sheila, a pregnant Shetland pony for the younger three kids. The Shetland ponies convinced both boys they had no interest in horses. Taffy's old mare died and was replaced with a pregnant mare named Pumpkin Peavine, a registered American Saddle Horse. In high school, Taffy found she had other interests. Jean raised a shetland pony foal, the Pumpkin Peavine produced a colt and, at the age of ten, Jean bred her first part-Morgan foal. After that, a succession of horses came and went. Training, showing, buying and selling horses were all part of learning the horse business. In 1945 Jean decided to concentrate on Morgans and has since bred over 350 foals.
Our first aim was to breed winning in hand and pleasure horses, such as National Morgan Show blue ribbon winner Whippoorwill Duke, Whippoorwill Melody, Whippoorwill Sachem, Whippoorwill Cumulus, Whippoorwill Telstar, etc.. There were NO park horses, no English pleasure or "classic" pleasure horses. A pleasure horse was one you actually rode during the week for pleasure. Often barefoot! We bred jumpers, hunter hacks, road hacks, trail and driving horses. There was no Morgan competition for reining, dressage or combined driving in those days in New England. If we had a fancy mover we shaved the mane and showed in Three Gaited classes against Saddlebreds. Once the breed was clearly divided between the artificial high steppers and the natural moving Morgans we went totally for the Sport Horse. In that we have clearly been successful, as you will see if you click on the "Results" page. We no longer show our Morgans in horse shows. Our customers do, however - very successfully.
Eminent Domain took a swath of land for the Blue Star Highway (US I-95).Of the remaining 500 acres, 450 acres are now under a Nature Conservancy Easement to keep it green and undeveloped.
Although this is a private farm, it is on the Connecticut Tourism maps, is always open to the public, giving us a marvelous chance to promote Morgan Horses. There are normally 20 to 30 Morgans on hand and at least 2000 or 3000 visitors - from all over the world - each year.
In the 1950s and 60s, Jean, now Mary Jean Vasiloff, her husband, Alex, and sons Christ and Tony, were active with Morgans. They participated in the major shows and club trail rides around New England.
The farm hosted the Whippoorwill Horseman's Club for over a decade. The students of the club wanted to show their parents what they had learned, so from this came The Morgan Horse Demonstration, which evolved into the widely-known Morgan Horse Versatility Event (the last of these was held in 2010). Two Open Barns are held Memorial Day and Columbus Day weekends. Alumni of the club bring their own children to the farm, and together they take part in all farm activities, which have become wonderful vehicles for exposing non-horse people to the breed, to the farm, land preservation.
The sign at the end of the drive says it all: Visitors Welcome.
Header photo of farm by Deb Lawton